For the last Homemade Christmas post, I'll share the gift I made for my Aunt Glenna.
She lives in a lovely old farmhouse which was recently all fixed up on the outside. I first drew it in pencil, then in ink. Once the ink dried I erased the pencil, then painted it in watercolor.
Here it is framed:
A close-up: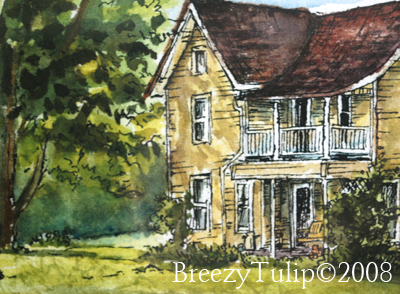 (The coloring in the photos didn't turn out as real-to-life as I wanted, so use your imaginations :–)
My Aunt really liked her gift, and I'm so glad I was able to make it for her.
I also decoupaged the cover of notebooks for my family, and gave a wrap and some homemade hot chocolate mix to my Aunt Andi. I thoroughly enjoyed the fun of secretly decoupaging in my studio and giving gifts to my dearest of friends.
I hope you all had a Merry Christmas! …and Happy New Year!