Okay, it's been long enough – I'll show you what I've been working on! The Indiana Homeschool convention (IAHE) has an annual art and essay contest, and this was my last year to enter. Like last year, I made a portfolio of four pieces in four different mediums (or media, if you want to be Latin-correct). I also made a "Copy the Masters" piece, and chose Beatrix Potter.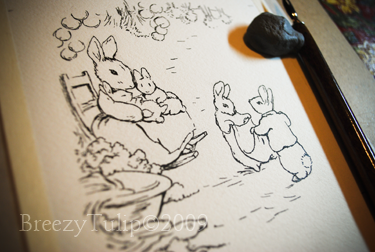 This painting was copied from the very last page of "The Tale of Benjamin Bunny". Started out in pen and ink. (By copy, I mean looked at and redrawn – not photocopied or traced.)

The enamelware basin in the lower left is just too sweet! (We're big enamelware fans.) I used my travel-sized watercolor palette to keep from using too many colors. Otherwise I could have been carried away!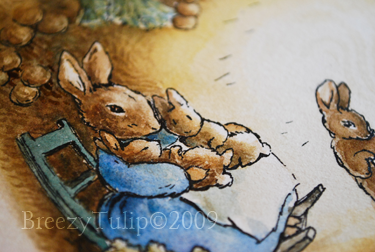 Aww, just look at Flopsy and Mopsy all curled up on their momma's lap.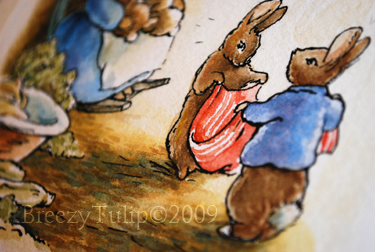 Cottontail and Peter fold the handkerchief, which likely smells of onions to this day.

And, the finishing touches! The 4″x5″ painting was matted in off-white and, might I add, looked quite smart. ;–)