Anna Sophia and Elizabeth Botkin answering some questions. Photo by Emily Rose
I learned and relearned so much! Through the various sessions and questions and answer times, God used the Botkin family to show us how serious we ought to be about the kingdom of God, starting with our families. So here are a few of my notes:
– If we honor God's law and trust Him as we live by His grace, will we know how to handle the overwhelming blessings that will crash down on us?
– The motto of the Reformation was "Semper Reformada," or, Always Reforming.
– All government is religious. You are either worshiping Jesus, or yourself. Culture is religion externalized.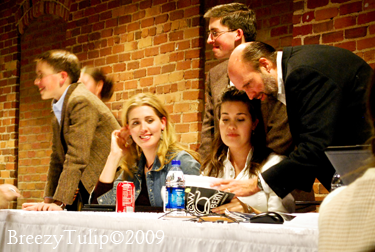 Noah, Anna, Ben, Elizabeth, and Mr. Botkin. Photo by Emily Rose
– In the Greek culture of the Classical world, it was thoroughly believed that "the voice of the people is the voice of God", the motto of Democracy. Democracy is a heresy. The voice of God is the Word of God, not 51% of the population.
– The Italian Renaissance was a conscious effort to reattain the wisdom of the Greeks, a glorious early Marxism. The Reformation in Geneva was a pursuing of Godly wisdom and biblical standards for society. It was called a paradise for women, who were loved, honored and appreciated for their God-given roles.
– The beginning of Marxism started not in the 1800's with Karl Marx, but actually reaches all the way back to when the devil sought to glorify himself rather than God. He then tempted mankind to reject God's plan for their growth in a relationship with God and godly wisdom, and offered the fast and easy way to knowledge of good and evil. It basically says, "Wouldn't you rather do things your way?", then finding and pursuing what ever is the exact opposite of God's order.
In seeking to end Christianity, they set up governments to glorify as the savior, over-tax the rich and poor and gorge on stolen wealth, and enforce unbiblical laws (e.g. man has no right to private property – it belongs to the government, children and the elderly are a drain – kill them, sin and debauchery is a good thing – revel in it). Sounds a lot like America, doesn't it?
– Worship is the way we serve.  It is more than singing in Church – it is the way we live our lives.

Daddy, Emily, and Momma, Friday evening.
– A home that pursues the glory of God and is dominion-oriented is full of tools, not toys.
– How will you know how to relate to other believers in the body of Christ if you have rejected and avoided the biblical family?
– Parents should be training their children all the time, showing them how to be loving and selfless by setting the example in speech, as well as deeds. (Better start practicing now!)