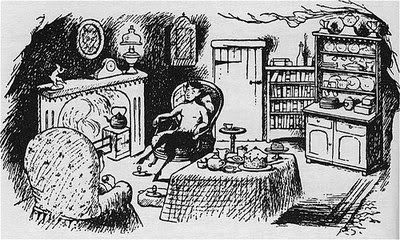 Lucy and Tumnus by Pauline Baynes
May I say that I simply love black and white art work?  Especially Pauline Baynes' pen-and-ink style.  Pauline Baynes (the illustrator for the original Chronicles of Narnia) has such a wonderful style; there's much I could learn from her—not to copy, mind you, but to enhance my own style.
In this piece by Pauline Baynes I can see she has already slightly influenced my work; my "Tree House" comes to mind.  What I love most about her style I can't say.  For starters, I love the fluidity and liveliness of it.  Her lines are living and breathing.   I can hear the clinks of the crude tableware, and smell the aromas of the earthy fare.
Secondly, you can tell the characters are her personal friends: they, too, are alive.  Thirdly, every detail is taken into account and utilized for the overall composition and aesthetic environment.   Fourthly, her cross-hatching.  I simply can't get enough of her cross-hatching! It may have been this signature element of her work that first caught my eye and snagged my heart.
Even with color added, her work is simply wonderful.  After I'm finished working on my *current projects,* I will hopefully get to experiment with pen and ink again, of course with Pauline Baynes by my side.
crunch, crunch, crunch